Danish National Maritime Museum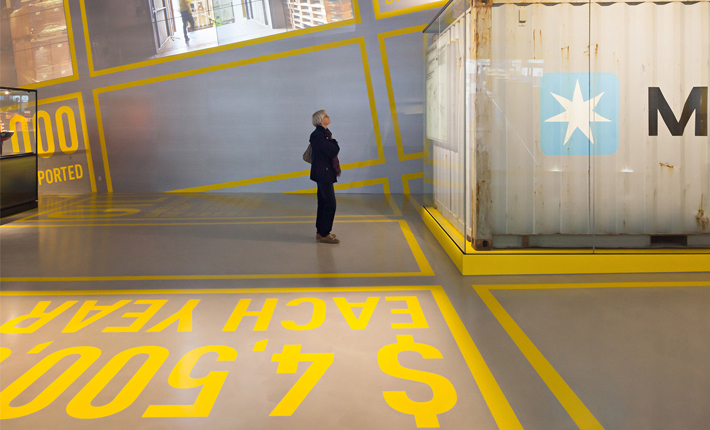 PICTURES (7)
VIDEOS (1)
TEXT
Danish Maritime Museum
Kossmann.dejong has designed the new display for the Danish National Maritime Museum in Helsingør. The architectural design comes from the well-known Danish architectural office BIG (Bjarke Ingels Group). The exhibition spaces are all underground, surrounding a former dry dock. The museum opened on 5 October 2013.
Journey as a metaphor
The metaphor that underpins the multimedia exhibition is that of a journey, which starts with an imagining of the universal yearning to discover far away shores and experience adventures at sea. A lighthouse projects dreamy images of shipping as depicted in art and culture. Portholes that have been transformed into showcases present the image of seamen as it has been shaped through the ages. Objects such as Jean Paul Gaultier's Le Male perfume bottle, erotic playsuits, Lego pirate toys, Popeye the Sailor Man, and Donald Duck show how colourful the perception of sailors has been over time.
Economical significance
Denmark's infamous maritime history, up until the significance of the contemporary shipping industry globally, is being told in a dynamic way, via themes such as ship, harbour, fleet, war, trade and globalisation. The interconnecting layer in the exhibition is the presentation of 'cargo'. Piles of various goods illustrate the economical significance of the development of the industry, which has also been accompanied by tremendous change for the average consumer. The container, as the main protagonist in the expansion and standardisation of modern shipping, is literally put on a pedestal. A scale model of the world's largest containership, which is launched in China in June, has been made especially for the exhibition.
Perspectives
The exhibition has been made accessible to a broad audience through the intertwining of many different perspectives on the shipping industry. Through the eyes of sailors, ship owners, captains and sailors' wives, visitors are introduced to the temptations of the harbour, life on board, and the skills required at sea. The lucrative business the shipping industry engaged in during the war is also paid attention to.
Film and 'interactives'
Impressive three-dimensional film installations have been used in the depiction of the themes. For these, a lot of original film footage has been unearthed from archives and private collections. Through many 'interactives', visitors can learn to trade, navigate and even ink a tattoo.
Architecture and interior
Kossmann.dejong made use of the unique sculptural qualities of the building in their scenography, so that architecture and interiors intensified and complemented each other. Very narrow spaces, for example, are used to evoke the oppressive atmosphere of the war. The wider, open space emphasise the openness of the sea, or the grand scale of contemporary globalisation.
FACTS
COMMENTS