Stillspotting NYC: To a Great City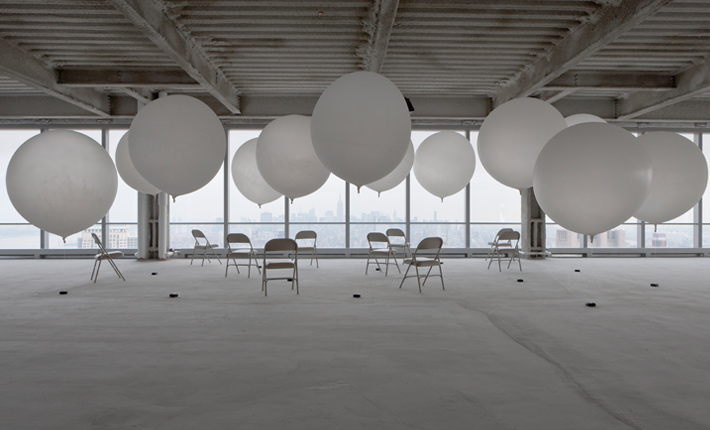 FOTOS (7)
TEXT
For the second edition of stillspotting nyc, a two-year multidisciplinary project that took the Guggenheim Museum's programming out into the streets of New York City's boroughs, Estonian composer Arvo Pärt and U.S. and Norway–based architecture firm Snøhetta created urban soundscapes around Lower Manhattan that explored the relationship between space and sound.
The so called "To a Great City", the Manhattan edition of stillspotting nyc, was opened to the public for two extended weekends on September 15–18 and 22–25, 2011. Stillspotting nyc was organized by David van der Leer, Assistant Curator, Architecture and Urban Studies, with Sarah Malaika, Stillspotting Project Associate, Solomon R. Guggenheim Museum.
While the vitality and stimulation of the urban environment can be pleasant, those living in or visiting
densely populated areas such as New York are often unaware that their ears continually need time to
adjust to strong differences between the sounds that surround them — just as the pupils of the eyes only
gradually accommodate to the change from light to dark.
Pärt (b. 1935, Paide, Estonia) has described his music as a frame for silence and uses reduction of sound
rather than augmentation to create his compositions. Pärt's concept of tintinnabuli ("little bells" in Latin), which forms the basis of most of his work, was born from his vision for an extremely nuanced aural.
His pieces often revolve around a central tone that reappears consistently throughout the work.
The Guggenheim Museum organized a collaboration between Pärt and Snøhetta in which the
architects have selected — and in some cases subtly altered — urban spaces that embody the concept of a
central tone and extend the perception of sound into the realm of space. Visitors will experience this
confluence of music and architecture at five separate locations downtown that quietly celebrate the city,
ten years after the September 11 attacks. Traveling through sites along the periphery of Ground Zero,
participants may encounter a green labyrinth created by The Battery Conservancy, reflect in an
underground chamber at Governors Island National Monument, and enter otherwise inaccessible
spaces in landmark skyscrapers. The stillness and seclusion of these spaces heightens one's awareness
and recalibrates the senses. Over the course of a day, participants may visit each space multiple times at
their leisure to understand how their perception changes based on circumstances such as time, stress,
appetite, and sleep. Listeners become increasingly sensitized as they are drawn in and ideally will be
transformed to a focused and tranquil state.
For stillspotting nyc, the Spatial Information Design Lab (SIDL) at the Graduate School of
Architecture, Planning and Preservation at Columbia University was commissioned to develop a
mapping study on silence and noise in New York City. The interactive map developed by SIDL
presents actual noise complaints generated by New York residents when calling 311, the city's phone
number for government information and non-emergency services. Reading the complaints offers
insights into the city's noise, and the contrasts between private and social space and between residential
and commercial necessities. In addition, SIDL challenged 15 graduate students from the Architecture,
Urban Design, and Urban Planning programs at Columbia University to investigate new concepts of
stillness in a fast-moving city. Drawing from a series of seminars with speakers from various
backgrounds, student work in the second half of the spring 2011 semester required inventing strategies
for collecting data about silence and noise, and visualizing this data into concepts. As a result, the work
questioned and redefined conventional ideas about noise, information, the city, and imagery.
A second visual study was developed with students in the MFA program in the Photography, Video
and Related Media Department at the School of Visual Arts who created video studies of the visual,
aural, and sociological ecology of the urban landscape. The interactive maps and videos are presented
on > stillspotting.guggenheim.org
FACTS
KOMMENTARE