Yucca Crater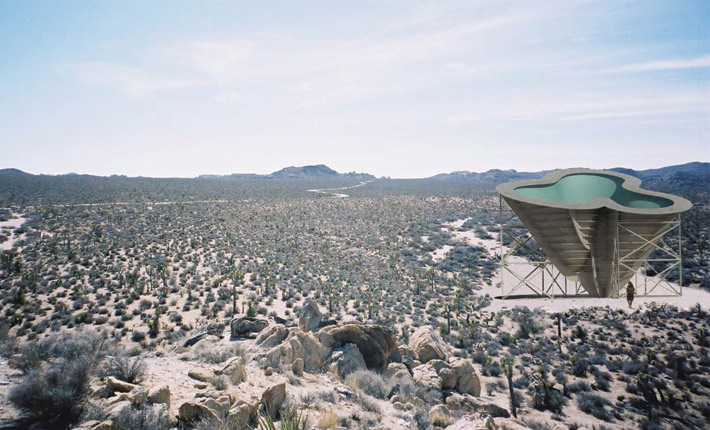 FOTOS (7)
TEXT
Each fall the non-profit organisation "High Desert Test Sites" (HDTS) invites artists to create experimental projects adjacent to California's Joshua Tree National Park. Los Angeles based firm Ball-Nogues Studio was invited this year to create a structure in a remote region of the Mojave Desert. Expanding on theories developed by earthwork artists, the Ball-Nogues' project entitled Yucca Crater, will re-imagine these concepts through new methods of production linked to their cross-disciplinary artistic, architectural, design and fabrication practice.
The project is descripted as an engineered oasis and climbing structure, the Yucca Crater will stand 24 feet tall, towering above the desert plane. Positioned along the slopes of its interior shell, rock-climbing holds will make their way into and out of eight feet of water. Heated with solar power and pumped through a wind powered turbine, the cavernous pool awaits climbers and weary desert travelers.
This elevated crater and its aquatic basin could be seen as a nod to the abandoned suburban swimming pools scattered across the Mojave. While the piece is decidedly man-made, it recalls the works of the land art movement by using materials at hand to construct the final product. By this, it is important to say that the massive structural formwork of Yucca Crater is the by-product of another Ball-Nogues work which is called Talus Dome. Situated along the embankment of a freeway in Edmonton, Alberta, the project Talus Dome is an enormous mound constructed of stainless steel spheres. The actual plan is to repurpose the formwork for High Desert Test Sites to become Yucca Crater.
In terms of re-using or re-purposing it is an important aspect of the project as it addresses a critical point in the Ball-Nogues' understanding of the environment today — the need to eliminate waste and finally encourage re-use.
By the way, the project Yucca Crater needs your support of donors to make the project happen. For further information you can visit the website www.unitedstatesartists.org/project/yucca_crater. Transporting and repurposing a structure of this scale will be a great undertaking. It will require support from those interested in enriching the California landscape with ecologically minded and imaginative architecture. So the Office Ball-Nogues will be thankful for any donation.
FACTS
KOMMENTARE