Streetlights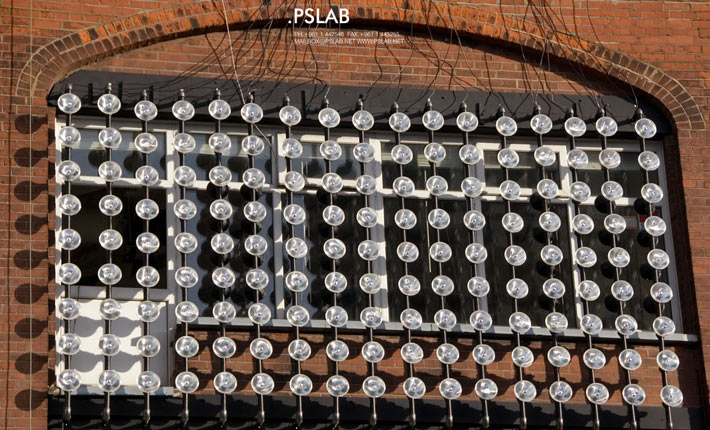 PICTURES (8)
TEXT
On the occasion of the 2011 Clerkenwell Design Week, design company DOSarchitects and creative lighting firm .PSLAB launched a daring one-off temporary installation on the external façade of DOSarchitects' studio in London, using 220 original vintage car headlamps to light the street.
The temporary nature of the installation allowed a freedom of scale and vision not usually available for the exterior of a building. Lighting the entire office façade required overcoming the physical constraints of the site, mainly the uneven external surface of the building. So they decided to fix some kind of metal 'skin' parallel to the wall made of varying materials, including brick, glass and steel. The steel 'skin' held the headlamp fixtures in a bold pattern, with the wiring hidden inside it. The lamps could be fitted with energy-saving light bulbs, and easily serviced from the interior of the offices.
On 25th May 2011, over 200 colleagues and friends of .PSLAB and DOSarchitects gathered at the DOS studio on Lever Street to experience the installation. The piece was lit during the evening, projecting bold discs of light outwards into the street and inwards into the office space. It will remain in place until June, 30th 2011.
FACTS
COMMENTS