MOEBIUS TRANSEFORME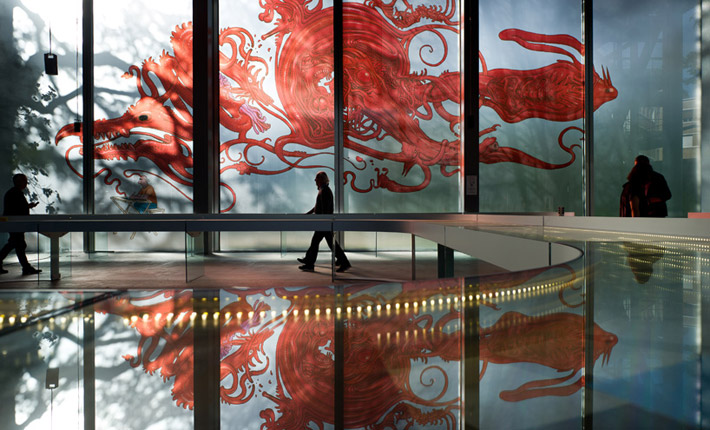 PICTURES (11)
TEXT
The exhibition MOEBIUS-TRANSE-FORME arose from a long collaboration between Moebius and the Fondation Cartier pour l'art contemporain, who presented his work for the first time in 1999 as part of 1 monde réel, an exhibition that explored the connections between reality, fi ction and science fi ction. At that time, two unpublished notebooks of the artist, which are now part of the Fondation Cartier collection, were on display. The exhibition also provided the opportunity for the artist to converse with the philosopher and urbanist Paul Virilio, as well as with the astronaut Jean-Pierre Haigneré at the Mir space station.
For some fifty years, Jean Giraud has given birth to a multitude of diverse characters who have continued to develop and change throughout his work in comic albums, isolated drawings and film projects. This exhibition presents the six major characters of the comics of Moebius showing how they evolve within each of the unique imaginary worlds the artist has created for them. He has developed a broad palette of styles ranging from the detailed realism of Blueberry to the fantastical drawings of Arzach and 40 days dans le Désert B. He is particularly renowned for his futuristic landscapes populated by hybrid creatures and ultrasophisticated spaceships, where the strange and uncanny may lead to daydreams of a metaphysical nature. Known throughout the world, his work has been profoundly influential over the past thirty years in the realms of science fiction, animation, advertising, 3-D film, video games and movies. Major film directors with whom he would later collaborate such as Luc Besson (The Fifth Element, Diva), James Cameron (Abyss, underwater creatures), Steven Lisberger (Tron, costumes), Ridley Scott (Alien, costumes) and René Laloux (the animated feature film Les Maîtres du temps) first became familiar with his work through his drawings.
Produced in collaboration with Moebius Productions, the exhibition at the Fondation Cartier presents a survey of the artist's work, including original notebooks, comic book panels, and paintings, as well as several previously unpublished drawings. A sound installation mixing the artist's voice with sound effects inspired by Moebius' work guides the visitor through his many worlds. In addition to the animated film La Planète encore, another film entitled MÉTAMOEBIUS, Giraud-Moebius Métamorphoses, offers an unexpected portrait of the artist as an actor in his own screenplay. Reflecting the prolific nature of Moebius' creativity, the exhibition itself will transform during the month of January, presenting new drawings and works. With over 400 pieces, MOEBIUS-TRANSE-FORME provides the visitor with the unique opportunity to discover the work of this remarkable artist who has continuously pushed back the limits of form in search of new horizons.
FACTS
COMMENTS