The Silent Evolution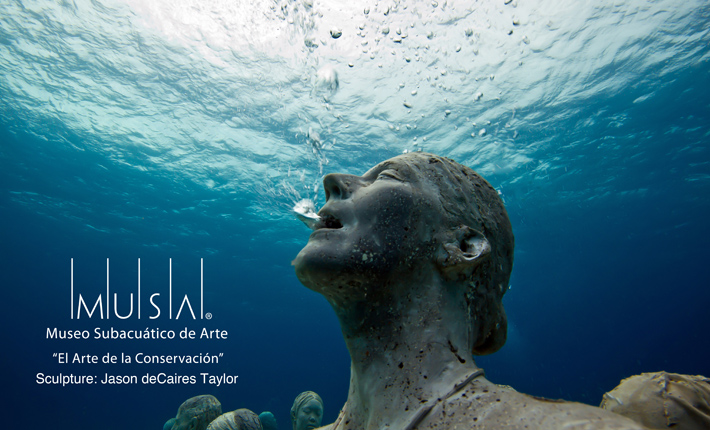 PICTURES (9)
TEXT
The Silent Evolution is a monumental underwater sculptural installation located in the transparent waters of the Mexican Caribbean. Over 400 permanent life-sized sculptures form a complex reef structure for marine life to colonise and inhabit, alleviating pressure on existing natural reefs. Once completed, the work will become one of the largest and most ambitious underwater artificial attractions in the world, occupying an area of over 420 square metres and with a total weight of over 180 tonnes. Working alongside creator Jason deCaires Taylor is a team of artists, builders, marine biologists, engineers and scuba divers to complete the various parts of the installation. The project started in August 2009, when the first sculptures were submerged and it will be completed in December 2010.
The sculptures are located in The National Marine Park of Cancun, one of the most visited stretches of water in the world with over 750,000 tourists each year. It places immense pressure on its resources. Providing an artificial reef to offer a significant alternative to the natural reefs means that the existing ones have a chance to regenerate and develop. A very important aspect of the sculptures are the materials being used. They have to be exactly the right ph -factor to attract corals, deployed at the right time of year to co-inside with coral spawning and the exact placement defined, in terms of depth and location.
The installation portrays a gathering of people, illustrating how we are all facing serious questions concerning our environment and our impact on the natural world. The sculptures depict humans, with inspiration coming from daily-life situations and throughout society. Visitors are being embraced. The snorkeler and scuba diver can join this underwater realm surrounded by the sea. For those who do not enter the water, voyages in glassbottomed boats will transport them to view the sculptures from above. The Silent Evolution is interactive so people can explore and observe them. The concrete will be changed in its appearance over time, as coral grows, light changes constantly in the water and marine life begins to territorialise the space. With scientists predicting a permanent demise of 80% our natural coral reefs by 2050, The Silent Evolution illustrates a potential symbiotic relationship between man and the life-systems of the underwater world. The project was given a budget of $ 350.000, mostly funded by the Mexican government.
FACTS
COMMENTS