Pringle of Scotland flagship store Chengdu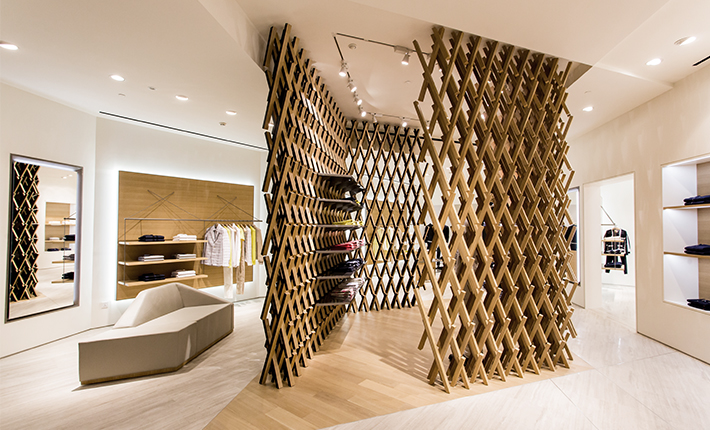 FOTOS (5)
TEXT
Argyle/Pringle of Scotland
Pringle of Scotland is the iconic brand founded in 1815 at the birthplace of the Scottish knitwear industry. From the beginning technical innovation has led to the creation of knitwear as outerwear, the signature argyle pattern and the classic twinset.
If the savoir-faire and the origins of the brand were used as reference for the flagship stores, the work of the designer Massimo Nicosia and the fact that this brand knows how to re-invent itself. Fashion muses such as Grace Kelly and Tilda Swinton have chosen to represent the house.
Project
Following the highly anticipated debut of the Pringle of Scotland global flagship store design on London's Mount Street in Mayfair in 2013, another store with 240 square metres of retail space, has been developed for Chengdu, China by atelier oï.
Leading knitwear innovation with the latest runway collections, Pringle of Scotland is sensitive to materials, to the savoir-faire and to the traditions of the brand. atelier oï has looked for a way to translate these elements in an architectural scale and created a design that draws on their shared values with the Pringle of Scotland brand; a great appreciation of traditional craftsmanship, a tactile relationship with raw materials and a drive for technical innovation.
Materials
The inspiration taken from the brand's Scottish heritage is evident in the use of materials; wood and stone are prevalent and reflect the distinctive landscapes of forest and woodland and dramatic rock formations that define the Scottish scenery where the brand was born.
Pringle of Scotland's iconic argyle pattern is further referenced through the use of sharp angles and dissecting lines wrought in gun metal structures that feature across shelving units and fittings. It reinterprets the whole knitting process that has been graphically composed with the metallic thread and the wood.
FACTS
KOMMENTARE