Spacebuster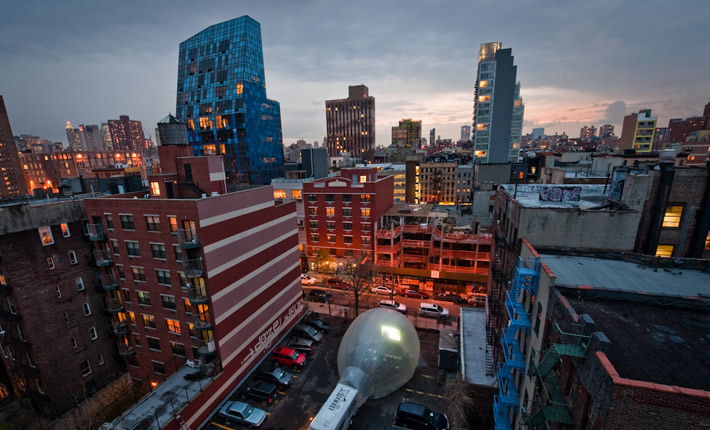 FOTOS (7)
TEXT
Spacebuster was developed and designed to explore the public space in New York City. As a research tool it acts as a transformer of the architectural and the social space i.e. the urban space.
The Spacebuster is build on the basis of a step van and a big inflatable space coming out of the back of the van fitting up to 80 persons in it. People enter the bubble through the passenger's door of the van walking through to the back down a ramp right into the inflated space.
The bubble is supported by air pressure generated by a fan underneath the ramp. The membrane of the bubble is translucent so people on the inside can see schematically what´s going on outside and vice versa. So the membrane acts as a semi permeable border between the public and the more private. This way the surroundings become the backdrop of the scene as viewed from the inside and the Spacebuster a stage in terms of a public theater piece. Projections onto the membrane can be viewed from the outside as well as from the inside of the space. Depending on the program taking place in the Spacebuster the space is furnished with desks, chairs, dinner tables in different layouts. As the flexible structure of the bubble can adjust to the surrounding it squeezes underneath a bridge, wraps around a tree or casts the pattern of a fence or the profile of a façade.
Traveling through Manhattan and Brooklyn on 9 consecutive evenings the Spacebuster hosted various events that emerged from cooperations of raumlaborberlin, the Storefront for Arts and Architecture and different local art institutions, nonprofit organizations and communities.
FACTS
KOMMENTARE