Essence Music Festival 2010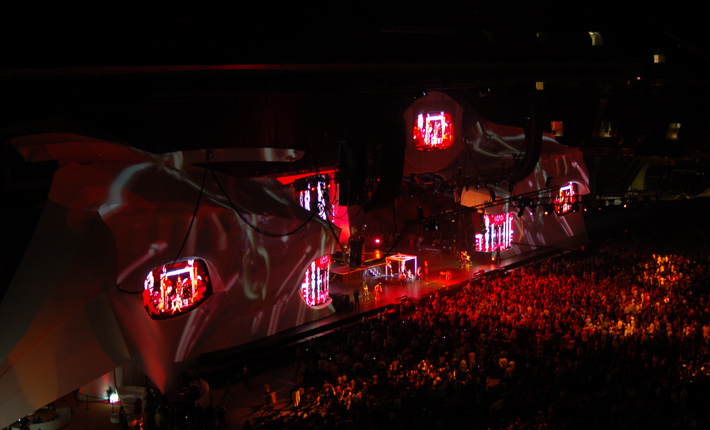 FOTOS (8)
TEXT
The production design and elaborate stage build for the 2010 Essence Music Festival (produced by Rehage Entertainment) should be looked at as a prototype for the effort to drift away from the separation of classical elements like lighting, scenic, audio, and video, to combine these assets into one compact stage. This transforms the design into one uniform yet organic and fluid sculpture.
The Essence Music Festival is a three-day concert and is held in the Louisiana Superdome and Ernest N. Morial Convention Center. It is the largest African-American music and empowerment event in the country; and the 2010 Festival featured top performers such as Janet Jackson, Mary J. Blige, Alicia Keys and LL Cool J. Stefan Beese of RE:BE Design approached this process with the mindset similar to that of a car designer, one who designs where and how metal bends to meet glass, how glass curves to become the windshield, how these materials then coalesce with technological assets such as LED lighting, speedometer, compass, etc, all to create one comprehensive organism that can "do it all". The same goes for this year's stage – it serves as a screen for I MAG content and video, as well as a projection surface, and appear differently from various viewing angles due to the rounded organic shape and complimentary video content. The 2010 stage is an endoskeleton structure consisting of two fluid volumes utilizing video mapping and large scale projections to create one uniform sculpture. Beese designed the organically sculpted stage, which was manufactured by Event Producers.Inc through the utilization of spandex fabric surfaces over a truss sub structure.
This 2010 stage design was a complicated in both development and implementation. The most important goal was designing something more sculptural that avoided any wall/curtain covering the production and backstage areas. This was to make the design readable as a shelter and surface that communicates to the audience through the performer. Stefan Beese designed as well the stage for the Essence Music Festival 2009, for which he was nominated for Parnelli Award in the category "Best Set Designer Of The Year". Let's see which prize the design for 2010 will land!
Beese is founder of Beesign-Production Design and co-founder of RE:BE. Founded in 1999, Beesign-Production Design has done Production Design for Feature Films, TV and Commercials, as well as, having designed Shows, Fairs, Exhibitions and sets for stage and screen in Europe and the United States. Since 1999, Stefan has worked with the award winning Architecture firm GRAFT, as Project Manager and Production Designer.
FACTS
KOMMENTARE