Tape Installation #5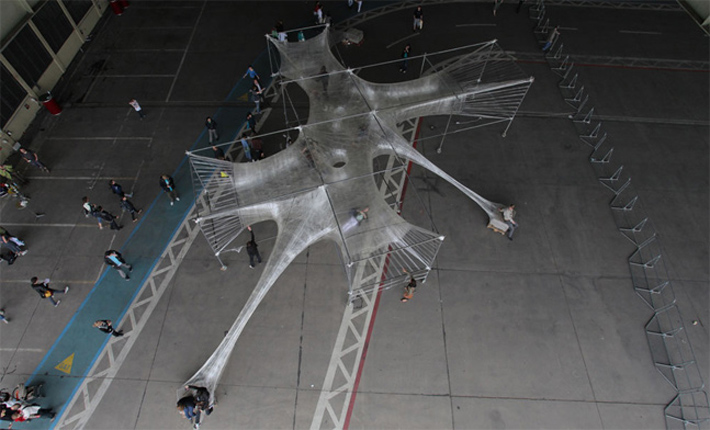 FOTOS (9)
TEXT
Although the Tape Installation is conceived as a kind of parasite, site specific object located at places like old attic, columns of a historical building, group of tries or an industrial concrete structure, due to location change of DMY in Berlin a custom scaffolding construction had to be made. Therefore the installation appeared more like a captured UFO on the old Tempelhof Airport and less like a cocoon. The installation was executed within four days (approximately 160 working hours) utilizing almost 700 conventional transparent tapes (45 km of tape). The tendons of multiple layers of transparent adhesive tape are firstly stretched in between a construction. The following continuous wrapping of tendons results in a complex, amorphous surface through the process reminiscent of growing of organic forms.
The idea for the installation originates in a set design concept for a dance performance in which the form evolves from the movement of the dancers between the pillars. The dancers are stretching the tape while they move, so the resulting shape is a (tape) recording of the choreography.
The installation won the DMY Award 2010.
FACTS
KOMMENTARE